Forty University of Queensland staff have received Higher Education Academy (HEA) Fellowship Awards in recognition of their dedication to teaching and learning.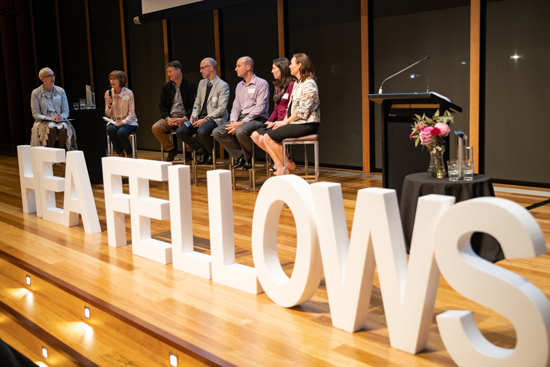 Principal Fellowships have been awarded to Professor Paul Mills and Associate Professor Susan Rowland from the Faculty of Science, Professor Polly Parker from the Faculty of Business, Economics and Law, and the Institute for Teaching and Learning Innovation's Dr Christine Slade.
UQ Deputy Vice-Chancellor (Academic) Professor Joanne Wright said the HEA Fellowships have provided UQ with a new and meaningful way to recognise and reward leadership in teaching and enhance professional learning.
"The HEA Fellowship program aligns strongly with strategic objectives to provide staff with professional development opportunities," Professor Wright said.
"The calibre of our HEA Fellows is a wonderful reflection on UQ's teaching quality, both domestically and internationally.
"Our newest Fellows have demonstrated a strong commitment to positive student learning outcomes and student engagement, and this will deliver clear and measurable benefit for them individually as they forge ahead with their careers."
Senior Fellowships were awarded to 20 staff, while 11 received Fellowships, and 5 received Associate Fellowships.
Following a successful pilot in 2016, the UQ HEA Fellowship scheme (HEA@UQ) has been developed and implemented by UQ's Institute for Teaching and Learning Innovation (ITaLI) in collaboration with school and faculty partners.
UQ Pro-Vice-Chancellor (Teaching and Learning) Professor Doune Macdonald said celebrating the achievements of UQ educators is an important part of enhancing the teaching and learning community, not just at UQ, but worldwide.
"Enabling academic and professional staff to work in partnership towards a common goal is genuinely transformative – connecting, inspiring, and expanding knowledge and skill sets," Professor Macdonald said.
"I am delighted to welcome all new UQ HEA Fellows, and congratulate each and every one of them on their achievement."
HEA Fellowships are aligned to the UK Professional Standards Framework, an internationally recognised system for benchmarking success in higher education, and rewards an individual's ongoing commitment to teaching and learning.
UQ HEA Fellows join a community of more than 100,000 Fellows worldwide, which enables the sharing of best practice across the world, benefiting the academic experience of students globally.
The HEA awards ceremony also celebrated institutional accreditation to UQ, granted by Advance HE (UK).
Media: Zarese Kisielewski, z.kisielewski@uq.edu.au, 3365 6211