Teaching and Learning Week
28 Oct – 1 Nov 2019
Teaching and Learning Week is an opportunity for the UQ community to learn from one another and celebrate creative and innovative teaching and learning practices designed to enhance student learning.
This year's workshops, panels, and other interactive sessions highlighted our excellent teachers and tutors, initiatives, and T&L leaders around the theme of 'Creativity'.
Monday 28 October – Friday 1 November 2019
UQ St Lucia campus
View the 2019 program (PDF, 108KB) or watch available video recordings (for the sessions that were recorded).
Awards Ceremony
Monday 28 October 2019
The UQ Teaching and Learning Awards were announced and celebrated at a ceremony held at Customs House, Brisbane.
Opening Keynote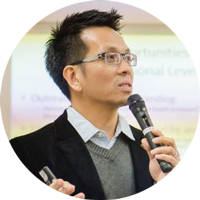 Learning begins at the end of your comfort zone
International guest speaker
Professor Ricky Y.K. Kwok
(University of Hong Kong)
Date: Monday 28 October 2019
Time: 10–11am
Venue: Abel Smith Lecture Theatre (23-101)