Our award-winning teachers
UQ values the hard work our teachers put in to improving the teaching and learning experience. We are proud to celebrate their success through our internal award program, which qualifies them for national recognition.
Each year our best and brightest are recognised with the UQ Excellence in Teaching and Learning Awards. Academic and general staff can win in one of three categories. As a winner of the UQ awards, you'll be invited to submit an application to be considered for the Australian Awards for University Teaching.
UQ also recognises excellence in Higher Degree by Research supervision. Visit the Graduate School website to find out more about these awards.
We have a long tradition of winners both at UQ and nationally. This year's winners of each award are listed below.
Apply for a teaching award
UQ teaching awards
National teaching awards
UQ Awards for Excellence in Teaching and Learning
UQ Awards for Excellence in Teaching and Learning recognise learning and teaching support programs and services that make an outstanding contribution to the quality of student learning and the student experience at UQ. They also recognise and reward individuals or teams who make a significant contribution to student learning in a specific area of responsibility and who are acknowledged for their achievements within a faculty or the wider university community.
View UQ award winners for each category, or scroll down below.
---
Awards for Teaching Excellence
2022 Winners
Associate Professor Ann Black
School of Law / Faculty of Business, Economics and Law
Society and Culture
A/Prof Ann Black teaches two popular electives for final-year Law students: LAWS5167 Asian Legal Systems and LAWS5189 Islamic law. In 2000, realising that students had only understanding of common law, Ann began her journey as a pioneer in Islamic law teaching and an advocate for Asian legal literacy. Committed to equipping her students to be informed global citizens who could evaluate other approaches to law, and informed by her research on Shari'a and Asia, Ann designed two innovative courses to counter ethnocentric understandings of law. Aware that traditional law teaching and assessment would not help students 'get their heads around' different legal paradigms, Ann's distinctive learning and assessment design supports her students to think – and do – differently, giving them confidence to make sense of law. From the outset, she disseminated her comparative teaching philosophy and practice via numerous articles, books, conference and keynote presentations, and invited professorships at six overseas universities. As a nationally and internationally recognised field leader, Ann has represented Australia at Asian and Sharia legal education forums. She is the recipient of eleven UQ Law School teaching awards, including a 2022 Law Award for Teaching Excellence in recognition of her Sustained excellence in legal education.
Dr Suja Pillai
School of Biomedical Sciences / Faculty of Medicine
Health
Development of critical thinking is an essential skill needed for medical students, it prepares them for practice and lifelong learning, a proficiency needed for every practicing health professional. As a pathology lead and coordinator for the Phase 1 Doctor of Medicine (MD) program, Dr Suja Pillai has been a facilitator of this process for UQ over the last four years. Suja led innovative teaching approaches in pathology which include museum integrated pathology curriculum, multidisciplinary learning models, and student-centered virtual classrooms. Suja's teaching and learning approaches enabled learners to associate theoretical information with their own frame of reference and better connect with real-world situations a much-needed skill for future doctors. Suja's student-centered approaches in pathology teaching and learning have helped students engage in 'deep' learning to support academic success and self-confidence aligning with the UQ student strategy of training game-changing graduates and enhancing their employability. Suja's passion for student-centered learning pedagogy has been recognised through multiple teaching awards including the prestigious John Pearn Medallion and Higher Education Academy Fellowship. 
2022 Commendations
Dr Peter Walters
School of Social Science / Faculty of Humanities and Social Sciences
Society and Culture
Sociologists are trained to understand the complexity, ambiguity and power relations that constitute our social world and affect the life chances of people and groups. Dr Peter Walters has built an outstanding record of achievement in teaching and mentoring at the undergraduate and postgraduate level. He trains students to think beyond their own experience to see the world around them for its possibilities, challenges and inequities. He does this by instilling the skills, imagination and empathy required for students to see beyond the surface and become critical interpreters of the local, national and global communities in which they live and work. Peter's methodology is to train students to first interpret their own social worlds. Using his considerable experience living and working in different cultural contexts he then provides students with rich insights, case studies and trajectories, giving them the methodological tools to interpret and understand the lives of the 'unfamiliar'. Peter's guiding aim is to produce empathetic leaders and good citizens. His teaching has been recognised by students and peers for its ground-breaking assessment methods including incremental critical reflection, documentary video making and sociological interpretation of popular media. Peter's teaching was recognised with a HASS Teaching Excellence Award in 2021.
Dr Ryan Williams
School of Historical and Philosophical Inquiry, Faculty of Humanities and Social Sciences
Early Career
Since joining UQ in 2018 as lecturer in Studies in Religion, Dr Ryan Williams has redeveloped and led courses on World Religions & Spiritualities, Islam, and Religion, Peace & Violence, while teaching into three other courses integral to the BA and Honours' programs and advising six PhD students. Ryan's teaching and research interests focus on diversity and inclusion in multicultural societies, and he embraces the challenge of teaching students to live and work in complex and diverse modern societies. Ryan fosters curiosity and constructive critique, cultivating opportunities for empathetic encounters with religious and cultural diversity. He uses innovative place-based and experiential learning approaches – in prisons, in places of worship, and in public spaces and using immersive multimedia technologies including 360 degree panoramas developed in collaboration with local faith communities. His teaching methods foster student curiosity to enable critical and open-minded engagement with "hot topic" issues and to foster positive relationships. He co-constructs knowledge with his students and researches learning outcomes with them. Connecting research, teaching, and engagement, underpinned by his ARC-funded Linkage Grant on religious diversity in SE Queensland, Ryan extends students' horizons of learning, transforms their thinking, and fosters the skills and identities necessary for an inclusive Australia.
Top of page    |    View previous award winners
---
Awards for Programs that Enhance Learning
2022 Winner
The Work and Research in Applied Psychology Team
Dr Natasha Matthews, Dr Mazlan Maskor and Mr Jordan Reutas
School of Psychology / Faculty of Health and Behavioural Sciences
Work Integrated Learning (WIL) programs that value and enhance student employability
"I want to use my degree to help people" is the motivation driving many students to undertake a degree in psychology. While traditionally, psychology students develop fundamental skills in understanding, measuring, and modifying behaviour, the application of this knowledge to "real-world" contexts where students have the opportunity to see the impact of their skills has not been available to undergraduate students. Work and Research in Applied Psychology (WRAP) is a work integrated learning (WIL) program developed to address this gap.
The core goals of WRAP are to provide students with: (1) diverse and individualised WIL opportunities reflecting the range of roles in which psychology graduates work, and (2) a foundation in self-directed learning skills making them job-ready graduates who are prepared to adapt to the ever-changing nature of work. First-hand experience in how psychology is applied in diverse industries acts as a window into non-traditional professional pathways and expands student conception of how their degree can be used to help others. Since its inception WRAP has greatly enhanced the employability of UQ psychology graduates, has expanded UQ's impact in the community, and established UQ as a sector leader in psychology education.
2022 Commendations
CaLD Lab Team
Associate Professor Noriko Iwashita, Dr Seb Dianati, and Ms Franciele Spinelli
School of Languages and Cultures / Faculty of Humanities and Social Sciences
Curriculum transformation and innovative pedagogy
The CaLD Lab team has addressed several unique and wide-ranging learning challenges faced at UQ; that is, how do students develop a sense of belonging and learn from their peers asynchronously? How does the student experience translate into the design of existing courses? In response, student partners were involved in all components of curriculum design in all 23 SSP projects, bridging the gap between student partnership and learning design, later published in IJSAP. Secondly, the team introduced new socio-emotive tools, interactive learning dashboards, new flipped learning approaches, and authentic e-assessment in order to tackle the challenges COVID presented. Lastly, they operationalised UQ's previous student strategy and strategic plan by offering a more flexible, authentic, blended, and partnered learning environment. The CaLD Lab team has become the largest school-wide student partnership initiative at UQ, the largest school-based Inspera eAssessment initiative in 2021, and the largest Microsoft Teams adoption in 2022. They have also led the largest course enhancement initiative within HASS by successfully blending, flipping, and moving online 32 various courses, with a third being in the Master of Applied Linguistics program. Their approach led to the support for the 2018 business case for Padlet and the institutional pilot and adoption of Flipgrid in 2022.
Digital Dental Team
Dr Sobia Zafar and Dr Jessica Zachar
School of Dentistry / Faculty of Health and Behavioural Sciences
Curriculum transformation and innovative pedagogy
For the past four years, the Digital Dental Team has provided technology-enhanced learning approaches and experiences for dentistry students enrolled in the Bachelor of Dental Science (Honours) program. The team has provided this learning support for over 400 dental students across multiple year levels (Years 2–4) and in eight courses. The introduction of authentic and innovative engaging learning experiences has enabled a transformative dental curriculum and the opportunity for students to expand their knowledge and achieve high skills in clinical competency, especially within the field of restorative dentistry, local anaesthesia, dental trauma, paediatric dentistry, and dental anatomy. The team continues to grow and explore new avenues of digital dentistry such as virtual reality, augmented reality, 3-dimensional printing and digital self-assessment aids. The team's philosophy revolves around providing stimulating learning environments so that students can develop into well-rounded health professionals who can become leaders within the profession and local community, delivering optimum health care.
Top of page    |    View previous award winners
---
Citations for Outstanding Contributions to Student Learning
2022 Winners
The Higher Ed Heroes Podcast Team
School of Political Science and International Studies
Associate Professor Alastair Stark, Dr Sebastian Kaempf, and Mr Anthony Frangi
The HigherEd Heroes podcast promotes a community of practice that is centred on UQ teaching excellence by delivering practical guidance about easy-to-implement practices that can transform classrooms.
The Urban Design Challenge Team
Australian Centre for Water and Environmental Biotechnology
Professor Steven Kenway, Dr Paola Leardini, Associate Professor Ilje Pikaar, Dr Sebastian Darchen, Cathryn Chatburn, Mojtaba Moravej, Diana Navarro
The Urban Design Challenge Team received a citation for developing a unique, creative, scenario-driven, game-based learning experience where engineering, architecture, water, and planning student teams collaboratively solve complex real-world sustainable urban design problems.
Associate Professor Lisa Hall
School of Public Health
A/Prof Lisa Hall received a citation for innovation and leadership in the teaching of epidemiology, through development of curricula and resources that have enhanced learning and the student experience.                                                                                                                                 
Associate Professor Elizabeth Krenske
School of Chemistry and Molecular Biosciences
A/Prof Elizabeth Krenske received a citation for harnessing dual-domain expertise and innovative pedagogy to develop a research-led quantum chemistry curriculum that boosts students' confidence, inspires learning and creates dual-threat chemistry graduates.
Associate Professor Peter Lewis
School of Nursing, Midwifery and Social Work
A/Prof Peter Lewis received a citation for leveraging international academic relationships to internationalise nursing and midwifery curricula: Creation of a virtual, real-time, single subject, global student exchange.                                                                                               
Associate Professor Sabine Matook
UQ Business School
A/Prof Sabine Matook received a citation for innovatively designing sustainable digital WIL partnerships that inspire Business Information Systems students' learning, enhance job-readiness and enable students to 'give back' to community organisations.
Associate Professor Christine Slade
Institute for Teaching and Learning Innovation
A/Prof Christine Slade received a citation for sustained leadership in providing all students with an equitable and trustworthy assessment environment through scholarship, policies, staff professional learning, and sharpening students' ethical decision-making.
2022 Commendations
Dr Obaid Hamid
School of Education
Dr Obaid Hamid received a commendation for inspiring, supporting, and inducting non-native English-speaking TESOL students into academia by co-navigating the complexity of academic writing and publishing and enabling their professional identity.   
Associate Professor Shuang Liu
School of Communication and Arts
A/Prof Shuang Liu received a commendation for the development of curricula, learning resources and assessments that enhance learning for culturally diverse students and influence intercultural communication education globally.                                                                    
Dr Miriam Moeller
UQ Business School 
Dr Miriam Moeller received a commendation for unlocking the global employability potential of international human resource management students via experiential curricula and authentic assessment innovations designed to enhance work relocation capabilities.
Dr Freyr Patterson
School of Health and Rehabilitation Sciences
Dr Freyr Patterson received a commendation for 'learning through doing': creating authentic simulated clinical experiences to support occupational therapy students to "become" OTs, ready for their journey to clinical practice.                                                                                                                                                
Ms Tarli Young
School of Psychology
Ms Tarli Young received a commendation for the University Wellbeing Program: integrating wellbeing interventions into psychology classes to increase student wellbeing, enable experiential learning, and decrease university stress.
Other awards
Besides the Australian Awards for University Teaching (AAUT), other national awards have been recognising and rewarding the work of our excellent teachers:
---
Australian Financial Review (AFR) Higher Education Awards
2022 Finalist – Teaching and learning excellence
Urban Design Challenge
Australian Centre for Water and Environmental Biotechnology (and others)
Team: Professor Steven Kenway, Dr Paola Leardini, A/Prof llje Pikaar, Dr Sebastian Darchen, Cathryn Chatburn, Mojtaba Moravej, Diana Navarro, Beata Sochaka, Dr Alice Strazzabosco, Niloo Tara, Shenbagameenal Surendran, and Sam Lemons (UQ), A/Prof Brian McIntosh (Griffith), A/Prof Steve Conrad (Colorado State University)
The Urban Design Challenge is a unique, creative, scenario-driven, game-based learning experience where engineering, architecture, water, and planning student teams collaboratively solve complex real-world sustainable urban design problems.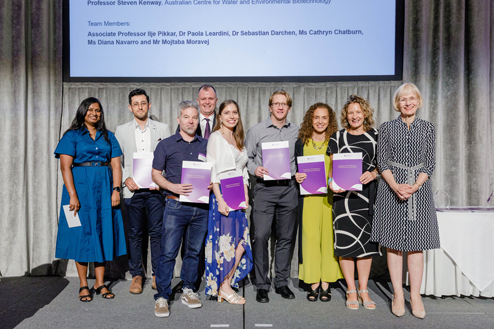 2022 Finalist – Employability
Developing a collaborative practice-ready health workforce
Faculty of Health and Behavioural Sciences
Lead: Dr Norman Ng
Dr Norman Ng leads the delivery of HLTH1000 Professions, People and Healthcare, an innovative course that builds the students' ability to deliver quality care for patients by promoting collaborative practices for allied health. Accrediting bodies have endorsed the inter-professional education curriculum and expressed their satisfaction with UQ and its health partners.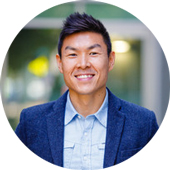 Top of page    |    View previous award winners
---
Reimagine Education Awards
2022 Gold Winner – Innovation in Business Education Award
UQ MBA Innovation Bridge
UQ Business School
The 'Innovation Bridge' team has been working with the Australian Defence Force (ADF) to address the growing challenges created by artificial intelligence (AI) and machine learning.
Top of page    |    View previous award winners
---
Engagement Australia Excellence Awards (previously BHERT Awards)
2022 Winner – Excellence in Student and Alumni
UQ ChangeMakers
UQ Alumni Relations and Engagement Centre
Recognising outstanding programs that improve student and alumni engagement and enhance the quality and impact of higher education.
Top of page    |    View past award winners
---
edX Prizes
2022 Finalist, Exceptional Contributions in Online Teaching and Learning
Academic English (ACE101x)
School of Languages and Cultures
Dr Peter Crosthwaite
2019 Finalist, Exceptional Contributions in Online Teaching and Learning
Leading high-performing teams / Business leadership MicroMasters Program
UQ Business School
Team: Dr Terrance Fitzsimmons, Associate Professor Bernard McKenna, Associate Professor Tyler G. Okimoto, Richard O'Quinn
Top of page    |    View previous award winners
 
---
U21 Award
2023 Winner
Dr Miriam Moeller
UQ Business School
Dr Moeller's teaching and research in global human resources and international business management helps students prepare to live and work internationally – both those coming into Australia and those heading overseas after graduation. About one million Australians live and work abroad and Miriam's courses aim to prepare graduates for the challenges as well as the rewards. Dr Moeller has taught more than 2,600 students in disciplines including International Business, Human Resource Management, Marketing, Engineering, Tourism, Psychology, Finance and more, in almost 10 years at UQ.

Her courses in International HR Management and Global Business Management are designed to help students develop practical skills and connections with mobility mentors while providing resources to assist with the transition to the global job markets.