In the 'HigherEd Heroes' podcast series, we interview some of the best teachers at UQ to discuss 'what works' in their classrooms in a jargon-free, non-technical manner.
Our objective is to communicate practical advice from the bottom-up to a broad range of teachers about new ideas they may want to integrate into their classrooms and to stimulate open conversations about their everyday practice.
Each episode explores what excites students to learn, what keeps them coming back for lectures, and what makes teaching fun for both teachers and students.
We hope that you engage in these conversations and (like us) find something in them which inspires you to make small changes that may reward you and your students in big ways.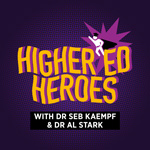 Available on
Apple Podcasts | Spotify | Google
Follow us
Podcast episodes
Episodes are published monthly via this page. Subscribe to the RSS feed to receive updates as new episodes become available.
Episode 4 – How to use Lego as a teaching tool in your uni classroom
In this episode, Al and Seb talk to Elske van de Fliert, the Director of the Centre for Communication and Social Change at The University of Queensland, about how her students use Lego as a means to develop ideas and stories, and thereby learn.
Episode 3 – How to place students in the driving seat during your lectures
In this episode, Al and Seb talk to Associate Professor Gerhard Hoffstaedter (UQ School of Social Science) about the ways in which his students collaborate in lectures, oftentimes even taking the lead during his lectures. In particular, Gerhard points to how the techniques he uses (including Pecha Kucha) open up new possibilities for students to learn.
Episode 2 – How to use simulations and practical scenarios in your classroom
In this episode, Seb and Al talk to Dr. Caroline Wilson-Barnao (Lecturer in Public Relations in the School of Communications and Arts at the University of Queensland) about how her students learn through practical simulations and crisis scenarios.
Episode 1 – Yay, we're live! But what's this all about?
In this opening episode, Al and Seb talk about what their new podcast is all about and what you can expect from this series. And they share a few gems you might find useful in your uni classroom.