The TeachingPlus@UQ program will provide professional learning opportunities for the University's future teaching and learning leaders.
A graduate of TeachingPlus@UQ will have experience in designing, implementing and evaluating a Teaching and Learning (T&L) project.
Through this experience, the graduate will have developed into a reflective practitioner; be conversant with the higher education landscape; and will have developed a network of T&L connections. The graduate will have improved their teaching practice, and be an emerging leader in T&L at UQ.
A Pilot Program is being conducted in 2019.
TeachingPlus@UQ will:
Build on the Teaching@UQ program
Engage academics in applied research that:

directly impacts student learning
develops leadership capacity

Extend application of reflective practice in T&L
Provide an opportunity for accreditation as a Fellow of the Higher Education Academy.
| Consultation | Development | Piloting | Rollout |
| --- | --- | --- | --- |
| January to July 2018 | June to December 2018 | 2019 | 2020 |
Initial consultation will be through UQ's community and committee structures, but we welcome individual feedback and opportunities to consult further about the proposed program.
 TeachingPlus@UQ consultation document (May 2018) (PDF, 1.2MB)
Program overview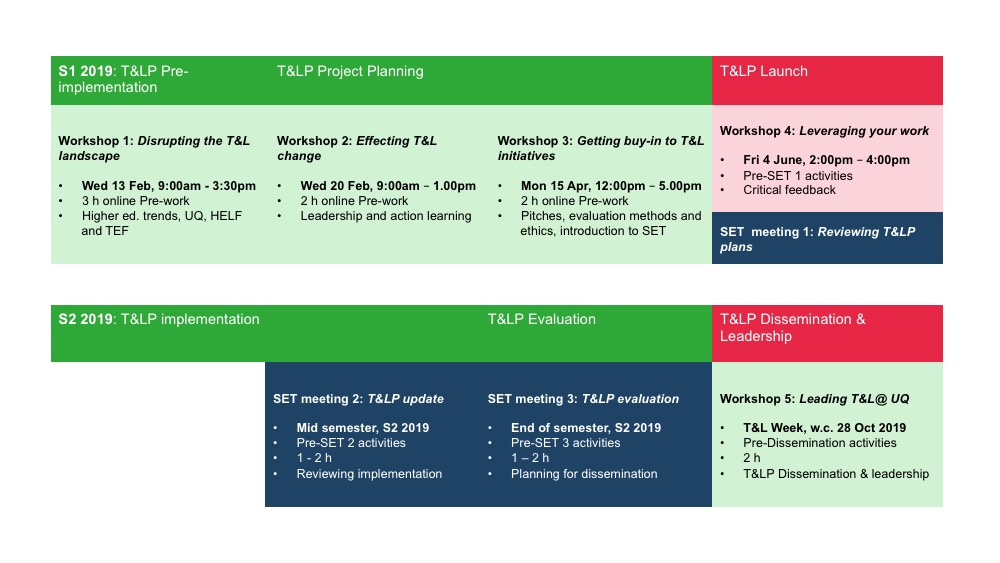 Program benefits
As a graduate of TeachingPlus@UQ, you will have gained experience in identifying, designing, implementing and evaluating projects designed to enhance student learning. 
This experience, coupled with a network of Teaching and Learning (T&L) connections across the University that you will establish, will position you well to lead further T&L innovation at UQ.
Program tasks and commitment
As a participant in the program, we expect that you:
Complete online activities as per schedule overleaf
Attend four workshops as per schedule overleaf
Participate in three group meetings to review and discuss your T&L project
Design, implement, evaluate, and disseminate a T&L innovation project
Present findings via a conference and a brief project report.