Case study 11: Active learning approach in an applied linguistic course
This project aimed to embed active learning strategies into course design and delivery to enhance student autonomy, increase the level of meaningful and critical engagement with course content and strengthen their interpersonal skills (i.e. teamwork, peer learning) that will be of great relevance in the workplace.
Course: SLAT2001 Introduction to Second Language Learning and Teaching – 2nd year applied linguistics course (62 students)
School/Faculty: School of Languages and Cultures, Faculty of Humanities and Social Sciences
Delivery: weekly, 2-hour face-to-face tutorial following an online lecture
Active learning approach: online lectures, readings and quizzes, in-class discussions and activities
Assessment tasks: weekly online quizzes and class reflection group project work, reflective essay, language analysis
Key issues and anticipated outcomes
Students' lack of analytical engagement with reading materials
Students' limited level of active participation in classroom activities.
Project innovation team
Active learning approach
Activities and assessment
Innovation 1: pre-class activities – read materials; listen to online lectures. Aligned assessment: pre-class online quizzes based on course pre-readings
Innovation 2: during-class activities – overarching weekly lesson plan includes four parts: 1. review; 2. introduction of the topic of the week; 3. in-class activities: mini-tutorials and active learning activities tailored to each week's contents; 4. wrap-up activity
Innovation 3: post-class activities (aligned assessment tasks) – reflection on weekly topics and rating of learning effectiveness; learner language analysis; SLA website design; reflective essay on language teaching methods.
Resources/technologies
Weekly Blackboard online lectures and reading with quizzes – to motivate engagement  
Padlet, UQWordcloud, UQWordstream, YouTube videos, Kahoot, and other game-based interactive platforms – to facilitate in-class discussions and deepen learning
Cirrus – resources to assist with the collaborative group project work
Written reflections via Google forms – to motivate personal-reflection on class activities.
Evaluation
Tools and strategies
Student perspective:
Quantitative and qualitative online questionnaire – gathering student feedback on the active learning approaches embedded in the course
Student reflections on learning via an assessment item
Focus group student interviews
Instructors' perspective:
Reflective writing during the semester
Key findings
1. Student perceptions of pre- and in-class activities
The students' ratings of the helpfulness of the pre- and in-class activities using a 5-point likert scale are summarised in Table 1. The results showed that students had positive ratings of the pre- and in-class activities.
The results also matched with the students' weekly rating of the pre-/in-class activities as shown in Figure 1. Students' ratings of the pre-class activities were high, relatively over 4.0 on the 5-point Likert scale, throughout the period of a 13-week semester.
Table 1. Helpfulness of learning activities following a flipped classroom model
Activities

M

SD

Pre-class activities:

Pre-class online quizzes are helpful for solidifying understanding of issues in the online lectures and the required readings

3.72
1.11

Online lectures are helpful for promoting understanding of various issues of second language learning and teaching

3.82
1.00

In-class activities:

Tutorial activities are helpful for promoting understanding of issues covered in the online lectures and the required readings

4.20
0.70

Tutorial activities are helpful for extending understanding of the weekly topics

4.00
0.76

Weekly reflective activity is helpful for identifying areas that need further revision and enhancement

2.82
1.16
Figure 1. Weekly ratings of the usefulness of pre- and in-class activities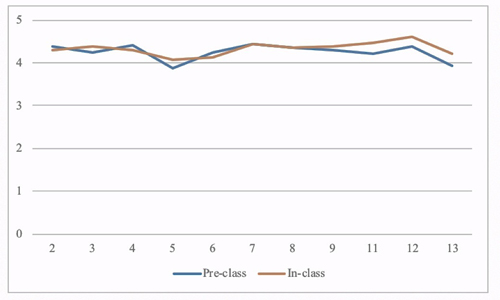 2. Student perceptions of technology use in active learning activities
Apart from the pre- and in-class activities, students also rated the helpfulness of technology use in the flipped classroom activities. Table 2 shows that the use of technology including softwares and apps (such as Kahoot, Mentimeter, YouTube) facilitated the students' understanding of concepts introduced each week.
Table 2. Technology-supported learning activities
| Helpfulness of the technology use | M | SD |
| --- | --- | --- |
| Online activities (e.g. Kahoot quiz, Mentimeter, YouTube videos, etc.) helpful for understanding the concepts of the week | 4.18 | 0.96 |
| Online learning pathway Padlets helpful for reviewing class content and understanding better the weekly topic | 3.38 | 1.09 |
3. Benefits of the flipped delivery mode
Table 3. Helpfulness of learning activities following a flipped classroom model
| Flipped classroom | Yes (percentage) | No (percentage) |
| --- | --- | --- |
| Online activities (e.g. Kahoot quiz, Mentimeter, YouTube videos, etc.) helpful for understanding the concepts of the week | 78% | 22% |
| Online learning pathway Padlets helpful for reviewing class content and understanding better the weekly topic | 88% | 12% |
As shown in Table 3, a majority of students agreed that the flipped classroom delivery mode was beneficial in terms of helping them improve their learning.
4. Students' comments on the effectiveness of flipped learning
It helped promote their critical engagement with course materials: "Online lectures are useful as it helps consolidate the knowledge from the readings"; "Having a quiz due before class was an excellent strategy to ensure that the lectures/readings were completed before class".
It increased their active participation: "Without this flipped classroom delivery mode, I would be very passive. I was more active especially when asked to read the required materials and online lectures in order to do the quiz".    
It enhanced their independent and peer learning skills: "I find that I'm more organised with the flipped classroom"; "First time using the flipped classroom method and I find it helps me to stay on top of the work and not slack off"; "I quite enjoy this teaching method which provides a lot of opportunities for us to communicate with classmates and exchange ideas".
5. Teachers' reflection on the flipped teaching experience
Benefits: "It was rewarding to see students engage actively with the learning materials prior to and during class. The teacher's role significantly changed from knowledge providers to facilitators of students' learning."
Key challenges: "Preparation and production of video lectures required substantial investment of time and effort. It was challenging to make the videos informative, educational and still entertaining enough to maintain students' interest."
Project outcomes
Other learnings
Despite the benefits, students reported some challenges when taking part in a flipped classroom course, such as concerns towards the independent learning workload, the flipped classroom mode not suited to some students' learning styles, and unfamiliarity with technology used for flipped learning.
Students need to be prepared or trained to become independent learners in order to maximise the benefits of flipped courses.
Active learning strategies implemented in the course certainly enhanced student participation in class activities, but it is not clear how they promoted students' critical engagement with the course materials.
Transferability of findings
The innovation was done in a content-based course (i.e. applied linguistics course), so other content courses could benefit by applying the strategies/innovations used in the current study.
The study results revealed several benefits as well as challenges faced by students and teachers when learning and delivering a flipped classroom, which could provide useful points of consideration and lessons for teachers who are planning to flip their courses.
Next steps
The current innovation was carried out only with undergraduate students, so in future similar mode of delivery might need to be implemented with postgraduate students to examine whether there are differences in the effects of the flipped-classroom model on learners' active learning at different degree levels.
The implementation of the flipped classroom in the course was conducted only through the teachers' perspective whereby teachers introduced innovations in the course. Thus, it would be more informative if students were involved in the process of designing and modifying the course. Further research may need to investigate how collaboration between teachers and students enhances the effectiveness of the flipped classroom model.