The community of HEA Fellows at UQ already counts over 400 members and is growing fast.
The HEA@UQ program allows those with teaching and learning expertise to gain recognition as a Fellow of the Higher Education Academy (HEA), upholding our commitment to provide contemporary and comprehensive professional development opportunities that support career progression.
If you are considering an HEA Fellowship, go to the HEA@UQ program page to find out why you should participate and how to apply.
Connect with the HEA community at UQ
Microsoft Teams channel
If you are an HEA Fellow (or in the process of applying for the Fellowship), we invite you to join our Microsoft Teams channel to connect with the community, seek collaboration, network and exchange best practice teaching tips.
Opportunities to engage, share and network
A collection of 'advice resources' published on Times Higher Education (THE) Campus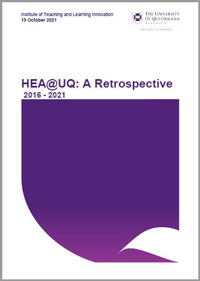 The
HEA Yearbook 2016–2021 (PDF, 3.4 MB)
provides an overview of what HEA Fellows have achieved since the inception of the HEA@UQ program five years ago. It provides an opportunity to recognise all those who work to mentor, assess and lead the program.
Everyone listed in the Yearbook has achieved recognition of teaching expertise by colleagues at UQ and internationally by Advance HE.
Fostering the community
There are several ways you can continue to engage with the HEA community after Fellowship recognition. For example, you can become:
an application reviewer,
a mentor, or
an affiliate practitioner.
You can also participate in conferences committees or become a member of the College of Peer Observers. All these opportunities may be formalised as part of the 'Service and Citizenship Domain' of your Academic Annual Performance Development (APD) process.
For more information, please contact the HEA@UQ Program team at professional.learning@uq.edu.au.