Online teaching provides more flexible ways to engage students in learning. Through the COVID-19 pandemic we transitioned rapidly to online teaching with mixed experiences for staff and students.
Digital technologies have become an integral part of society extremely rapidly. Many of us use different online technologies as part of our everyday lives without really thinking about it. Whether it's shopping, paying bills, booking a holiday or keeping in touch with family or friends. The Internet has fundamentally changed how we communicate, work and share information. These changes are happening so fast that many educational institutions have found it very hard to keep up (McIntyre & Mirriahi, 2019).
Online teaching provides more flexible ways to engage students in learning, creating opportunities to learn and connect in more places and times. This flexibility needs to be supported with a fluency in design and use of technology, clear signposts for students and a sense of learning community. Learner interaction is considered the key to effective online environments, with ample opportunities to work with peers and receive timely feedback for purposeful tasks (Draves, 2000).
Benefits of online teaching
Increased flexibility of time
Increased flexibility of location
Efficiency in course administration
Improved accessibility, and equity of access
More consistency in information sharing
Access to more diverse and rich experiences.
On this page:
Synchronous interaction
Synchronous interaction happens in real-time, often within a set time in a specific virtual place. Synchronous interaction is most commonly through video, audio or text – with tools like Zoom – different participants may be interacting through each of these options. Synchronous interaction facilitates dynamic exploration of topics/ideas/concepts, student peer engagement and participation.
 Below are a few tips to design a productive synchronous learning session:
Determine an objective, have a clear rationale for what the session is about and what you hope to achieve (e.g. answer student questions, demonstrate a concept, guest speaker, break students up for group discussion). Explicitly communicate the session objective and purpose of the activities with students.
Focus on active learning and plan for all participants to participate.
Keep any resources or materials easily accessible for students (consider the diversity of technologies, bandwidth and students).
Actively ask students to prepare for the session – you can ask students to prepare an idea/question/topic or assign a reading beforehand.
Be flexible and adapt to the needs of the students within the session (e.g. group discussion can turn into a question session).
Keep the session short to retain students' attention, ideally around 60 minutes and no more than 90 minutes. Ensure you plan for breaks throughout longer sessions.
Think about logistics – get to know the software, compose your environment, consider how you appear on screen (e.g. ensure lighting is adequate), limit distractions, provide guidance to students when needed and have a contingency plan if the connection fails.
Top of page
Asynchronous interaction
Asynchronous interaction does not happen in real time. Content is usually available online for students to access and learning activities are based on deadlines. Common delivery methods include self-guided learning modules, pre-recorded video content, virtual libraries, lecture notes and online discussion boards. Asynchronous interaction provides students the flexibility and ability to pace their learning.
Below are a few tips on asynchronous interaction:
Establish expectations, learning objectives and clear deliverables up-front by providing clear instructions.
Recommend course pace or pathway for students to follow to help them with time management.
Give meaningful feedback and allow students the opportunity to evaluate and digest the feedback, as students rely on feedback to learn and improve their performance. Consider checkpoints to ensure students are mastering the content.
Leverage interactive tools to engage and motivate students with the learning content. Discussion forums are commonly used to facilitate peer engagement and promote a sense of community within the course. Other common interactive methods include the use of video, audio or media – video allows instructors to convey intent or presence that may not be obvious in text-based interaction.
Include your communication methods/plan so students know how and who to reach if they run into problems or have questions about the learning activities.
Top of page
Zoom lectures, tutorials and workshops
Tutorials and workshops may be delivered synchronously using Zoom with active learning supported with functionality such as polls, 'reactions', whiteboard and PadletUQ activities, and breakout rooms for small group discussions.
Prepare to use Zoom with the virtual classroom using Zoom guide and the self-paced Zoom workshop. You can also book a personal consultation to walk through using Zoom as a virtual classroom.
Set up for class. Test your audio before each class. If you are using any resources have them open and ready. Close browser tabs and applications you aren't using to avoid distractions. If you are using PowerPoint set up your slides to display in a window so you have easy access to Zoom controls as well.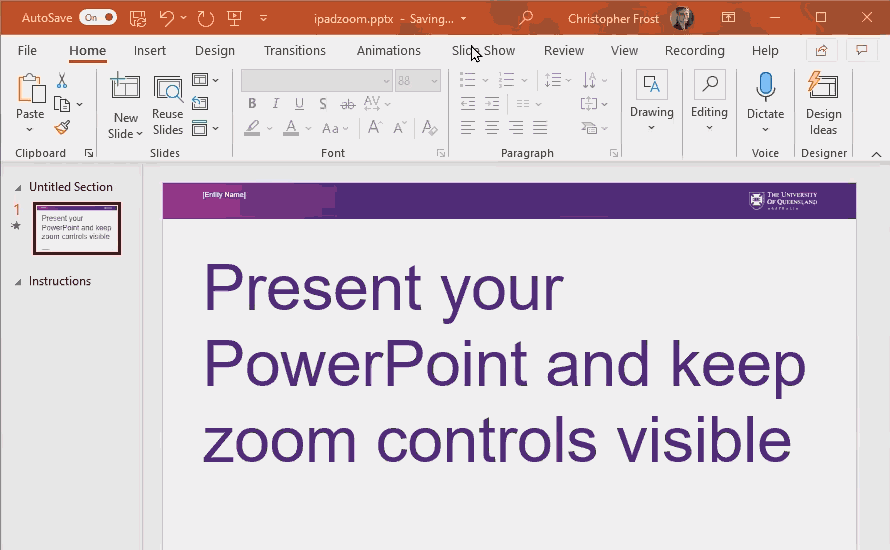 Connect in-class with other course learning activities and assessment. Highlight work and outcomes from activities students should be doing outside this class. It may be worth planning some time in class to model the use of discussion boards and activities expected of students. Highlight the alignment of your class with the course assessment, take time to teach students how to do tasks and use technology they will use for assessment.
Build feedback into your online teaching practice. Let students know how well they have performed on a task (feedback) and communicate what needs to happen next (feedforward).
Create opportunities for students to connect to you and each other. In this time of uncertainty, fostering a sense of community amongst your students online can help them feel connected and provide a sense of belonging and normality.
Consider alternatives. Some activities can be replicated asynchronously online using Blackboard Discussion Boards and PadletUQ to support discussion and collaboration, with in-class quizzes replaced with Blackboard tests.  These options can be more flexible. Having some activities outside tutorials can reduce time pressure in your classes.
Explore more ways to make the Zoom experience more engaging (PDF, 151.3 KB) and review tips for teaching with Zoom (PDF, 296.6 KB).
 Resources
Managing the Zoom classroom (BEL) (PDF, 119.1 KB)
Teaching on Zoom guidance (PDF, 296.6 KB)
HASS guide for teaching on Zoom (PDF, 418.6 KB)
Engaging students in Zoom classes guide (PDF, 151.3 KB)
Interview - Innovative online teaching with A/Prof Saiied Aminossadati
Virtual classroom using Zoom
Top of page
References
Synchronous Learning vs. Asynchronous Learning in Online Education. Retrieved 4 June 2021, from https://thebestschools.org/magazine/synchronous-vs-asynchronous-education/
Sabo, C. (2020) Best Practices for Synchronous Online Teaching and Learning, Retrieved 4 June 2021, from https://www.codlearningtech.org/2020/10/05/best-practices-for-synchronous-online-teaching-and-learning/
Pappas. C (2014) 7 tips to create an effective asynchronous eLearning strategy, Retrieved 4 June 2021, from https://elearningindustry.com/7-tips-create-effective-asynchronous-elearning-strategy
Best Practices for Asynchronous Learning (2020), Retrieved 4 June 2020, from https://ethinkeducation.com/blog/best-practices-for-asynchronous-learning/
McIntyre, S., & Mirriahi, N. (2019). Learning to Teach Online, Week 1 [Coursera]. Retrieved 20 June 2021, from https://www.coursera.org/learn/teach-online/home/week/1
COFAonlineUNSW. (2010), Key Concept - Why is Online Teaching Important? Retrieved 20 June 2021, from https://www.youtube.com/watch?v=EDULQMR6wJs
Top of page
Need help?
ITaLI offers personalised support services across various areas including online teaching.